On The Day of your Shore tour
Tours will depart at 8am or precisely 30 minutes after disembarkation begins.
Example 1: Your ship is due to dock at 7am, disemabarking begins at 7:30 and your tour departs at 8am as scheduled.
Example 2: Your ship is due to dock at 7am but is delayed and instead docks at 8:30. disemabarking begins at 9am so your tour departs at 10:00 sharp
Example 3: Your ship is due to dock at 9am, disemabarking begins at 9:22 so your tour departs at 9:52 sharp
Docking times change all the time, sometimes by a little and sometimes by a lot but we will always be ready and waiting for you but do keep in mind that this tour will depart either at the official time OR precisely 30 minutes after disembarkation begins - whichever is later
Note: For the full day tour, your ship needs to be in port for up to 9 hours to fully enjoy this tour.
Your bus will only be a few minutes walk from your ship, but it is important to be ready to get off your ship when the ship doors open (not making your way down after the announcement to disembark is made.)
If for any reason your ship does not reach port, even at the last minute, you will receive a full 100% refund - No questions asked!
We are very proud to be the only Shore Excursion Provider in Cobh/Cork to guarantee this.
IMPORTANT: If you book through third party websites like Viator or TripAdvisor, the Terms & Conditions of that contract with these providers will apply to your booking.
NOTE: Should your ship dock in an alternative port, we reserve the right to operate from this port if it is feasible for us and refunds will not be issued in this circumstance.
Some ships dock at the other side of Cork harbour in Ringaskiddy from time to time.
This is no problem for us as we can easily begin our tour from Ringakiddy.
However, docking in Ringakiddy does mean an alteration to our usual tour day in that we must exclude Cobh from the regular itinerary.
This gives you the benefit of a more comprehsive tour of Cork city and a little more free time during the day as well.
IMPORTANT: While making your booking, ensure that you check your ships name so that you do not select the wrong port on the correct date.
When you disembark from the ship - Immediately turn right heading for the gates - You will find our "Butlers Shore Team" here.
Our buses are parked around the corner - This is a 3 minute walk approx. from your ship
See pic below which shows where our buses are parked in relation to your ship.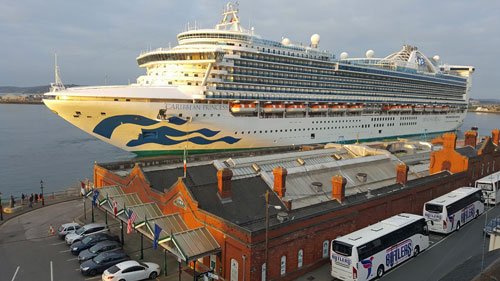 Watch out for our staff at the port gates in their Butlers Shore Tours uniform.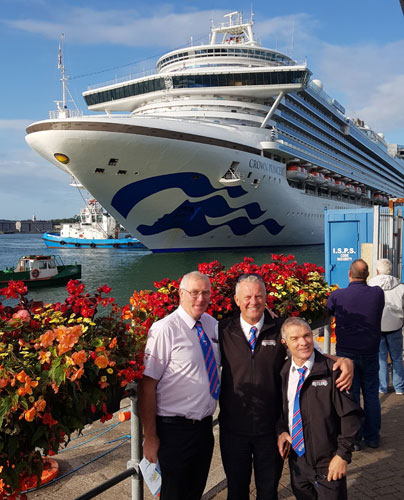 The walking distance from your ship to your bus is approximately 3 minutes - it is important to be early as we leave on time
If you miss your bus, you will not receive a refund/compensation, partial or otherwise.
Sometimes there are customs checks but our experience is that our passengers who arrive at their meeting location well before their appointed customs time normally will have no problem getting to their bus in plenty of time.
No - Seats are allocated on a first come - first served basis
To get your prefered place on the bus - be sure to arrive early!
Note: You cannot not switch seats during the tour unless you have the express co-operation of your fellow passengers.
If you are not seated with your family/friends, lets us know and we will do our best to help if at all possible.
Yes, but you will need to get to your bus early as seats are assigned on a first come - first served basis.
All admission fees are included.
Meals or refreshments are NOT included in your tour price.
Note: If for whatever reason you do not visit an attraction, you will not be entitled to a refund, partial or otherwise.
Blarney Castle and Kinsale is up to 2 hours each.
Jameson Distillery Midleton is 2 hours.
Charles Fort and Cobh Cathedral are both 15 minutes
Titanic Gardens are 20 minutes
Old Church Cemetary is 20 minutes
Note: If your time in port is shorer, we will need to shorten the free time and/or modify the itinerary to ensure you back at your ship at least one hour before sailing.
Yes, it is customary to tip your driver/guide for a job well done.
A guideline amount is 3.00 to 5.00 Euro per person

Complaints - Breakdowns
Most issues can be resolved quickly so please contact us via your driver or direct with our office and we will always endeavor to give you a speedy resolution.
For complaints, please contact us in writing by email or post.
See our contact details.
We continuously strive to improve our service and will take any complaints very seriously.
You can be assured of a quick and comprehensive response should you have any complaints.
Shore tours are unique in that there is no margin for error on the return time. Please be assured that we take your sailing time even more seriously than you do and always plan to have you back to your ship at least one hour before sailing.
We have a very modern fleet of high end vehicles that are maintained rigorously which minimises the risk of a breakdown.
In the unlikely event that we do have a breakdown, we will stop at nothing to get you back to your ship in good time for your sailing.
In the event of an accident or road block, our extensive local knowledge will help considerably to work around this.
We always plan in some redundant time to cover unforeseen events plus we can alter our itinerary in a moments notice if needs be.

Lost Property
Please Contact our office and we will always do our very best to locate your property.
Any lost property that has been found by our staff will be stored at our depot in Rushbrooke Commercial Park, Cobh, Co. Cork, Ireland, P24 RD43 for a maximum of 3 months.
It may be collected from here, by prior arrangement (normally by courier), between 09:00 and 17:00, Monday to Friday.
Unfortunately due to security reasons we are unable to forward any lost property found on board our vehicles.

Accessories
No - We have trialled wifi on our buses but despite claims, found that the quality is simply not good enough just yet in Ireland.
However, The restaurant in Blarney Woolen Mills has excellent free wifi.
Yes, we have a range of seats:
- 0 to 3 years is 20.00 Euro
- 4 to 11 years is 15.00 Euro
Contact us for more details.
Yes we can!
Rent a wheelchair for 35.00 Euro.
Contact us for more details.